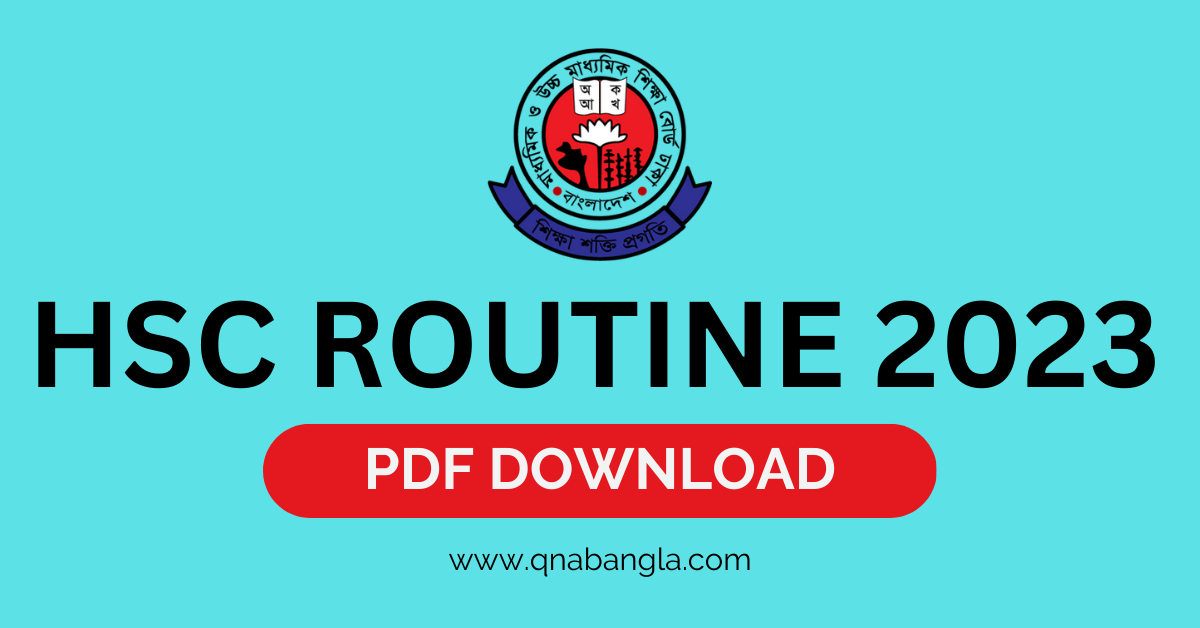 HSC Routine 2023 PDF Download – All Education Boards
The Ministry of Education has published the Higher Secondary Certificate (HSC) Routine 2023 in PDF format. The revised schedule is now available for all general education boards in Bangladesh. The exams will commence on August 17, 2023, and conclude on September 25, 2023. Moreover, the Practical Test will start on September 26, 2023, and end on October 4, 2023.
At a glance
Name of Examination: Higher Secondary Examination (HSC)
Routine Release: June 08, 2023
Exam Start: August 17, 2023
Exam End: September 25, 2023
HSC Routine 2023 for All Education Boards
The HSC Routine 2023 is applicable to Dhaka, Rajshahi, Jessore, Comilla, Chittagong, Barisal, Sylhet, Dinajpur, and Mymensingh Education Boards. Students from Science, Humanities, and Business Studies Groups will participate in the exam based on a short syllabus.
COVID-19 Guidelines
This year's HSC Examination 2023 follows government health guidelines for COVID-19. The Inter-Education Board has issued special instructions to ensure the safety of candidates, staff, and others involved.
How to Download HSC Routine 2023 PDF
To download the HSC Routine 2023 PDF, visit the official websites of the Ministry of Education and respective education boards. The routine is available on websites like Dhaka, Comilla, Rajshahi, Dinajpur, Chittagong, Jessore, Sylhet, Mymensingh, and Barisal Education Boards. Download the HSC routine in PDF format from these websites. Additionally, it is also posted on the notice board at HSC Corner.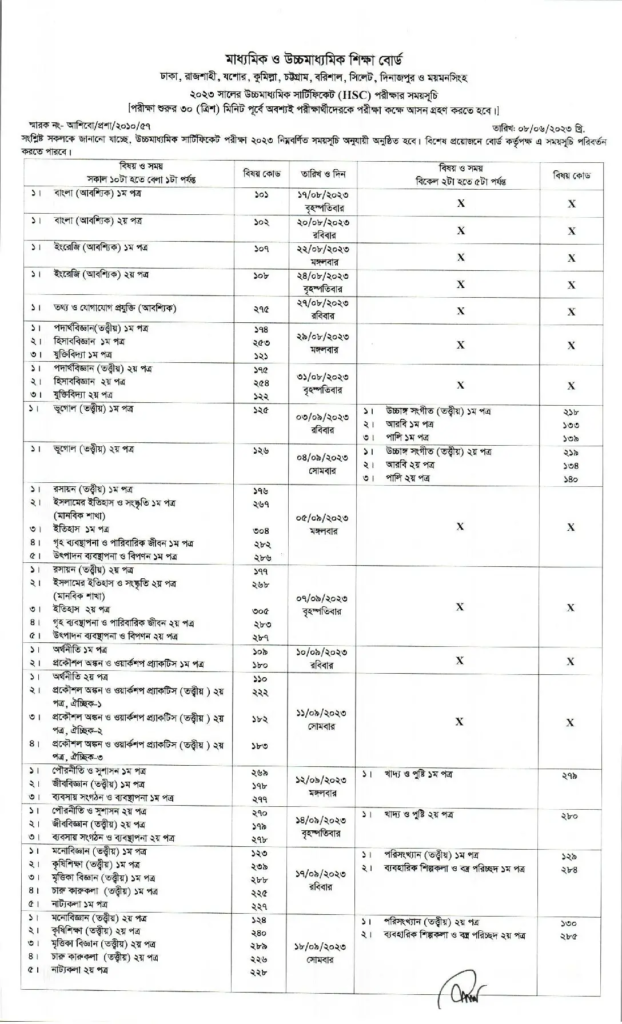 Alternative Sources for HSC Routine 2023 PDF
Apart from education board websites, the Exam Routine 2023 PDF is published in national dailies and news media as images. Please find it in PDF and image formats on education board websites and news portals.
HSC Equivalent Exam Routines
Alim Exam candidates can download the equivalent Alim Routine 2023 PDF from Bangladesh Madrasah Education Board (BMEB) official websites. Similarly, the HSC Vocational Exam routine is available on the Bangladesh Technical Education Board website.
HSC Examination 2023 Instructions
To ensure a smooth exam, candidates must:
Arrive at the exam hall 30 minutes early.
Take a multiple-choice exam followed by a creative or compositional (theoretical) exam, with no break in between.
Follow invigilators' instructions.
Collect Admit cards from their institutions.
Take exams only for subjects on their Admit Card and Registration Card.
Arrange seating through transfer, not at their own colleges.
Use common scientific calculators, not programming ones.
Only the test center's officer in charge can use feature phones (excluding smartphones), no one else during the test.
Prepare well for the HSC Examination 2023 and follow guidelines for success and safety. Best of luck!
Last Words
The HSC Routine is now available for download, and the exams are set to begin soon. Students must follow COVID-19 guidelines and prepare diligently for success. Best of luck to all candidates!
কিউএনএবাংলা.কমে লিখতে পারেন আপনিও। লেখার বিষয় শিক্ষা, বিভিন্ন টিউটোরিয়াল, সরকারি সেবা, ফিচার, ভ্রমণ, লাইফস্টাইল, ক্যারিয়ার, তথ্যপ্রযুক্তি, কৃষি ও প্রকৃতি। আজই আপনার লেখাটি পাঠিয়ে দিন qnabangla.com@gmail.com ঠিকানায়।